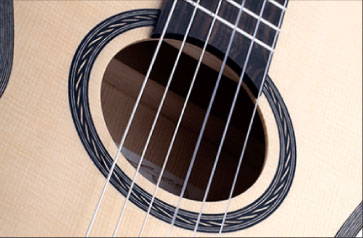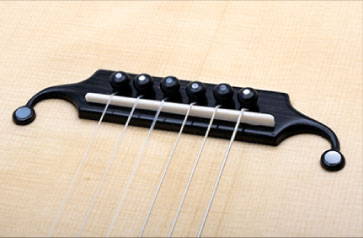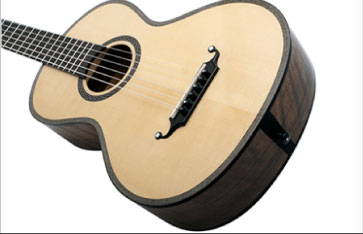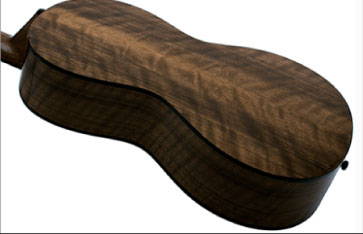 Lacote Style Romantic Guitar with Australian Curly Walnut Back/Sides

---
My Curly Australian Walnut Lacote Style guitars are built much like my curly maple versions. However, there is a difference in the back and side laminations. It's somewhat difficult to find some of the more exotic woods in pieces with any thickness to them. Hence, I'm using much thinner veneers laminated over Sitka spruce for the back and sides. Generally speaking, these guitars a bit lighter built as I'm holding the thickness of the spruce to 1.0mm, and the veneers are coming in at between 0.5 to 0.75mm.
I'm making these guitars with two-piece backs with no center strip, just the two very attractively book matched panels and simple sides without center purfling. This guitar is understated in terms of adornment. But the curl on these veneers is spectacular and pops when I lay a French polish finish on them. This series of Australian walnut veneers was a rare find. I doubt I'll find any more as nice as this once it is gone.
As I do with all of my romantic guitars, I laminate 1mm Sitka spruce to in this case, curly Australian curly walnut to make up both the back and sides of these instruments. Necks are two-piece book matched domestic black walnut. I have developed my own v-joint that I machine out on CNC machine and then hand fit and finish to join the headstock and neck together
I've built this guitar only with Italian spruce tops. The sound is a deeper and mellower than it's curly maple counterpart. I certainly will entertain building this guitar using other species of spruce as well as cedar.
The rosette and purflings, are combinations of white and black dyed maple. Binding and headstock, front and black plates, and bridge are Macassar or Gabon ebony, as is the fingerboard.
The bolt-on neck joint has several advantages. As it is easily removable, it easily serviceable and adjustable. As these are ladder braced instruments, I felt it prudent to have a means of easily changing the neck angle without having to resort to steam or heat to release the neck joint.
Second and equally as important, I can work on the guitar as both an entire finished assembly (body and neck) or body or neck independently throughout the build process, which is certainly an advantage for me.
Like my Five Piece Back Curly Maple version, this guitar us French polished. The debate over the benefits of French polish over lacquer or polyurethane has been going on forever. We all have our own opinions on the benefits of one over the other. And as a majority of the iconic guitars have been French polished, and I'm a traditionalist at heart, I will continue to offer it as my only finish option. I find the look and feel of a French polished guitar most appealing. I also have a lot of control over the thickness of the finish I lay down without having to bother with a lot of fancy equipment or burdened with a lot of safety concerns. The operative word here is thickness. What I'm looking for is the thinnest possible finish to protect the wood and minimize dampening, which can negatively affect the sound of the instrument. There is no doubt, French polish is more delicate than lacquer, varnish, or polyurethane, but it is infinitely easier to repair than any of its alternatives. I've resurrected several French polished instruments with little more than a soft cloth, some alcohol, varnish, and a bit of elbow grease.
---
| | |
| --- | --- |
| Series | Lacote |
| Model | Walnut |
| Size/Type | Early Romantic |
| Top Wood | Italian Alpine or Sitka spruce (Customer's choice) |
| Back & Sides | Australian curly walnut with Sitka spruce lining |
| Binding | Macassar ebony |
| Purfling | Natural and black dyed maple |
| Bridge | Macassar ebony |
| Rosette | Half herringbone natural and black dyed maple |
| Finish | French polish |
| Neck/Fingerboard | Curly maple or domestic walnut neck, Macassar ebony fingerboard |
| Headstock Plates | Macassar ebony (front & back) |
| Scale Length | Nominal 620 (actual 616) |
| Number of Frets | 12 to body, 18 total |
| Fret Marker Inlays | None unless specified (side markers only available on request) |
| Nut Width | 45.25 mm |
| String Spacing at Saddle | 48mm |
| Nut/Saddle | Bone |
| Bracing/Build | Lacote ladder bracing |
| Body Width | 215mm upper bout, 276mm lower bout |
| Body Depth | 75mm upper bout, 80mm lower bout, 85mm waist |
| Overall Length | 885 mm |
| Tuning Machines | Pegheads planetary tuners |
| Strings | La Bella ERG #1 Early Romantic Guitar strings (nylon trebles, silverplated copper wound on nylon basses, medium tension) |
| Included Services | Progress updates with photos, full professional setup |