HOW TIME FILES. It's been almost eight-years since Marfione Guitars opened its doors and fifteen since I constructed my first instrument. A lot has happened since then.
Early on in Marfione Guitars' history, seeing the need for an online presence dedicated to the nylon string player, I opened up my online store: AllStringsNylon.com. It seemed like a great idea to provide the platform, and I worked to establish a reputation as a customer-driven online business. But as a result, my guitar building suffered. Nonetheless, I spent a lot of time thinking about and refining my interpretations and construction techniques for several instruments and I'm ready to re-present them to you on this new website.
What I am interested in doing is what I've always done best. And that is working one-on-one with each and every client, helping guitarists find the instrument that's right for them.
And while building and selling my own guitars is my main objective, I'm still offering other guitars for sale. The site includes selected hand-made concert and flamenco guitars crafted by other luthiers. I've rounded out the collection with many nylon and steel string production instruments by Kenny Hill, Cordoba, Godin, la Patrie, Guild, and Martin, to name a few. So if you're a beginner, a serious amateur, or a pro, the site offers some great possibilities to pick up a quality guitar.
I've never been interested in just selling boxes; I leave that to the big box stores. What I am interested in doing is what I've always done best. And that is working one-on-one with each and every client, helping guitarists find the instrument that's right for them, whether that be an instrument I personally build, or one of the many fine guitars I offer from dealers and other builders I represent.
I like working one-on-one with my clients. If you order a guitar without engaging me with a phone inquiry or at least a chat or email exchange, you're going to get a call from me. I don't blindly send out guitars, It's essential that both you and I are on the same page in terms of the guitar you are looking for and how you want it set-up. Buying a guitar online can seem like a daunting endeavor. It doesn't have to be. You'd be amazed at how much information can be communicated back and forth in a 15-minute phone conversation.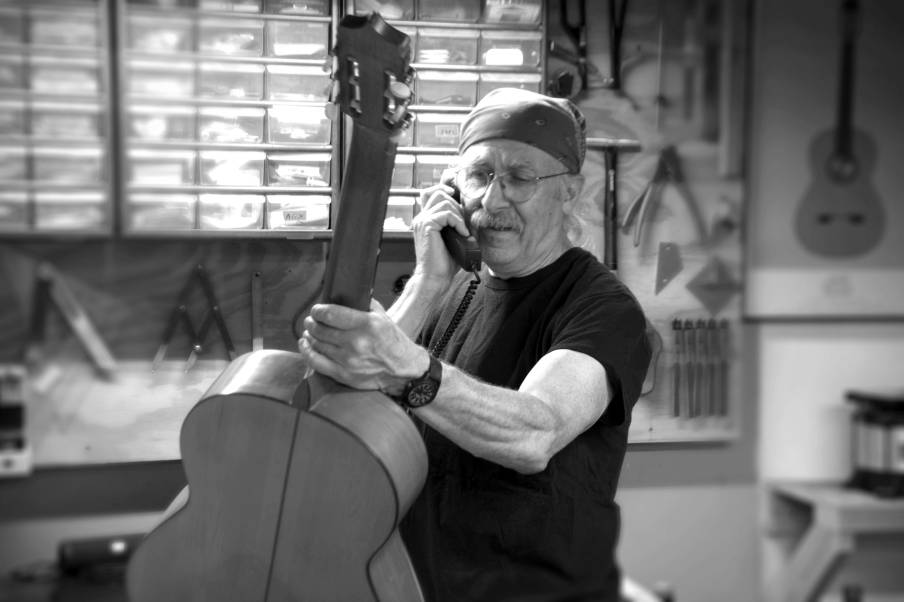 Surprisingly enough, over 80% of my clientele are over the age of 60, and most of them are experiencing some hand challenges, whether it be arthritis, an injury, or just plain weak hands. Some are pros, some are serious amateurs, some are beginners picking up a guitar for the first time. What they all share in common is the desire to find a great sounding guitar that is easy to play. I can relate to the hand challenges. Being Seventy myself, every time I pick up a guitar, my playing suffers to some degree because of sore hands. The repetitive-motions of spending eight-plus hours a day working on guitars have not been kind to my hands, and my playing suffers for that. I've helped hundreds of guitarists find the right guitar, and through my set-ups (which are free with every guitar purchase), enabled many of them to overcome their hand challenges.
My guitar construction and sales activities are augmented with repairs, restoration, and pickup installs and upgrades. I'm an authorized dealer and installer for Fishman, L.R. Baggs, and Barbera transducers, as well as an authorized repair center for both Cordoba and Guild guitars. I'm taking in work both locally and from afar. Please feel free to reach out to me to discuss your needs. I'll be upfront and let you know if it's worth your while to send me an instrument to work on.
And lastly, just a bit more, on AllStringsNylon.com. It was launched to provide space devoted entirely to the nylon string instrument player. With my decision to start offering steel stringed instruments, the name no longer fits the business model. As such, the AllStringsNylon catalog will gradually be integrated into the Marfione Guitars site. You'll soon find many of the items offered on AllStringsNylon (amplifiers, pickups, strings, and accessories) on the MarfioneGuitars.com menu. I'll be trimming down the product offering bit on the nylon side and adding to the steel string offerings. Guitars currently catalogued on the AllStringsNylon site will move under the Marfione Guitars umbrella.
So, that's it in a nutshell. As always, I'm here to help, so feel free to reach out to me. I look forward to hearing from you!

WHAT OUR CUSTOMERS SAY ABOUT US
"What a great experience buying from Marfione Guitars / All Strings Nylon. I spent $530.00 on a Cordoba Paco but you made me feel like I spent $3500.00 and really took care of me. The write up on the pre-inspection and set up was awesome.... I couldn't be happier with my purchase."
- MICHAEL B.
Chuck's attention to detail and customer service are second to none. At the risk of using a well-worn cliche, he really does go the extra mile. It seems profit is less important to him than customer satisfaction, very rare nowadays. His setups are truly great, plus he gives you a detailed report and pictures of everything that was done.
- STEPHEN
First off, I must thank Chuck for the setup work he performed on this guitar. When it arrived, it played wonderfully. Inside the case was a detailed explanation of what Chuck did to improve the play-ability of the guitar before sending it to me. Wow, this is why it is best to order from someone like Chuck than from one of the 'big-box' stores. Overall, very happy with the upgrade, going from the Fusion 14 to the GK Negra. Most impressed with Chuck & thankful for his timeliness & help!
- JAY
I could not have asked for any better guitar. My teacher was blown away with every aspect of this guitar and especially for the price. Also would like to give a huge shout out to Chuck and the wonderful service, from asking questions, the advice given, and the wonderful setup done on the guitar. Chuck did a wonderful job and I would not hesitate to purchase here again. Thanks Chuck
- DAVID
If you have never played a perfectly set up guitar, you should buy and instrument from Chuck for that reason alone. I had heard many good things about Kenny Hill over the last several years and wanted to try a classical with a cutaway since I was tired of struggling with some more advanced pieces. I spoke to Chuck about my concerns and my specific setup which would require getting action of the low E and the 12th fret to 3mm. Chuck answered all my questions and delivered a virtually perfect instrument.
- MANGORE
Well it's hard to say enough about Marfione Guitars and All Strings Nylon....Buying an instrument as temperamental as a nylon string guitar can be a scary online experience, but I want to relay why I went with All Strings Nylon and why I think you should too.
I called Marfione Guitars/All Strings Nylon and talked to Chuck. And Chuck spent about half an hour on the phone with me, then he went and did an A-B comparison of the two guitars I was considering and emailed me notes. And the thing is, I hadn't actually spent any money yet. That's what they do-- they treat you like you're the most important customer they have, even if you haven't spent any money.
All Strings Nylon did something a big box store never does. They went away for a little while and got my Cordoba FCWE ready to go. And I don't mean to imply they were out of touch, because Chuck reached out frequently and was always available if I called him. But they went off and in addition to the upgrades we discussed, they set up the guitar (based on our conversations to my needs), leveled the frets, and made sure what came my way was just about perfect. When the guitar arrived, it was like you brought it to a trusted luthier and just got it back, perfect for you. I can't put it down.
So what did I get from All Strings Nylon-- I got to feel like the most important customer they had. I got a guitar that met my needs based on their conversations with me and the recommendations they made, and I got it set up precisely how I'd want it to be.

- MIKE
I received my Gk Studio Ltd today, and after inspecting it, i was blown away by the quality, and sound this acoustic can produce for the price I spent on it. Chuck at (Marfione Guitars/AllStringsNylon) has went above and beyond to meet all my needs for the setup, and with picking out of a choice stock selection of this Córdoba line. The professional setup that is offered when purchasing this instrument is very generous, and guarantees in providing an ultimate presentation. The action is perfect! No string buzzing, no defects in structure or finish. Chuck Marfione is the man !
- JORDAN
A big thank you to Mr. Marfione and All Strings Nylon for their exemplary customer service! I was interested in a guitar that was back ordered, but the folks here kept me informed of when it would become available and even called me when my order was getting ready to ship! Very very happy with them and would recommend them to anyone looking for a classical guitar. Thanks!
- CAROL
The customer service I received was absolutely stellar. From thoughtful conversations on FaceTime all the way across the country, to emailing me photos so that I could pick out the specific instrument I wanted, to keeping me posted throughout the shipping process, to receiving my beautiful, completely set-up Cordoba Mini SM-CE (with a thorough and personal letter in the mail), I was so impressed and touched by Chuck's integrity and care for his work and customers. Absolutely recommend, and THANK YOU!
- LYNN
Although I had trepidation about purchasing a guitar online, I had already had some experience with Cordoba guitars and Barbera pickups so I plunged into investigating this purchase. Chuck was extremely knowledgeable and helpful. His installation and setup were spot on. The ease of playing and excellent amplified sound have conspired to make this my go to gigging guitar. Thank you Chuck for making this such a satisfying purchase!
- JAMES
Although I had trepidation about purchasing a guitar online, I had already had some experience with Cordoba guitars and Barbera pickups so I plunged into investigating this purchase. Chuck was extremely knowledgeable and helpful. His installation and setup were spot on. The ease of playing and excellent amplified sound have conspired to make this my go to gigging guitar. Thank you Chuck for making this such a satisfying purchase!
- JAMES